This is not intended to be exhaustive – it would be difficult to be so in a ​year that has managed to move so quickly and cover so much territory. Instead, we focus on five key observations from our own experiences of 2020.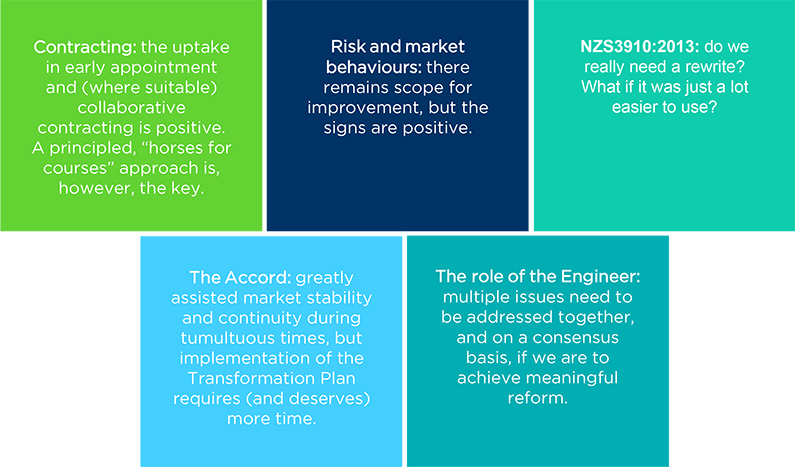 1. Contracting
At the start of the year there was already growing support for the use of early appointment contracting models. Spurred on by the Government's "shovel-ready" initiative and a more mature appreciation for how models such as ECI and managing contractor can be utilised, we have seen a number of public and private sector-led projects successfully implement early appointment models over the course of the year. This has mostly occurred where:
project information and/or design was incomplete, and there was recognised potential for value to be derived through buildability considerations and value engineering;
there was a need to mitigate build-related risks prior to the award of the main works contract, and so achieve greater price and time certainty than might otherwise be the case (especially when dealing with long lead time items and constrained supply chains impacted by COVID-19); or
the design and build activities needed to overlap, necessitating flexibility in design during the construction phase, but with more contained cost consequences than would be the case if effected through a typical variation process.
Collaborative contracting models have also come to the fore, with Alliancing now being implemented in both the private sector as well as at a local authority level. While the Alliance model and documentation used by Waka Kotahi are familiar to market participants and create a logical starting point, in our view there is an opportunity now to develop a contemporary, well-drafted, standard set of standard form Alliance documents in New Zealand. These documents would ideally be easily adaptable to private and public sector projects and different asset classes, and include the necessary optionality to cover both pure and competitive Alliances. Having a more flexible model and a revised set of documents developed through industry consultation could help drive the uptake of Alliancing in New Zealand. We suggest this could be an area of focus in 2021 for the New Zealand Infrastructure Commission – Te Waihanga.
We have also seen more frequent use of "hybrid" contracting models, which involve a blend of traditional standard form contracting together with Alliancing features such as:
lump sum or guaranteed maximum sum pricing coupled with a "pain/gain" mechanic to incentivise best-for-project type behaviours;
measurable and compensable KPI regimes;
variation benchmarking; and
"relationship principles" overlaid across contractual rights and obligations.
Auckland Transport's Downtown Infrastructure Development Programme is an exemplar of such a hybrid model, and deserves consideration as one of the Construction Sector Accord's Beacon Projects (more on this below).
Alliancing and such hybrid models are not, however, suitable in every instance. The considerable upfront time and cost involved in establishing an Alliance and/or an agreed target outturn cost must be balanced against a key reason for selecting such a model, namely the need for expert innovation and ingenuity to resolve a high-degree of project complexity and uncertainty. There must also be critical cultural alignment across the owner participants and non-owner participants. While this can be developed over time and with the right leadership, if participants are more accustomed to a traditional procurement model, it will add to the upfront time and cost.
When it comes to selecting a contractual model, we suggest that four key principles should underpin the decision:
the contractual structure must match capability on all sides;
the contractual structure must reflect project status and project complexities;
the contractual structure must align with project risk profile and the capacity of project participants to take on that risk; and
(in the case of public sector projects) the contractual structure must drive public value.
2. Risk and market behaviours
In September last year, we ran a panel event and published a series ​of articles focussing on risk allocation in the construction industry. Some 15 months has passed since then, and in our experience there has been:​
a greater willingness on the part of principals, both public and private sector alike, to tender projects on terms which reflect a more realistic allocation of risk as between principal and contractor; and
increased contractor participation in contract negotiations, coupled with a greater appreciation from contractors as to the meaning and effect of special conditions.
This has been especially apparent in relation to the COVID-19 pandemic, where we have seen a real willingness from principals to proactively identify, scope and then address the risks arising from the pandemic through special conditions, or "COVID clauses". These clauses are being properly scrutinised by contractors when bidding so as to ensure that they align with the sequencing and methodology for the build, and also respond appropriately to matters such as delays arising from constrained supply chains (especially where the project involves the importation of important materials or kit). This sensible approach stems from a mutual recognition that there are inevitable and material risks arising out of COVID-19 which need to be jointly dealt with upfront and in the contract in order to avoid project and individual failures.
There is no doubt however, that there is room to do more on all sides.
We still routinely hear of projects being tendered on terms which allocate project risks to the contractor that have not been properly identified, scoped or assessed as to likelihood and impact. This seems to occur most often where there has not been early contractor engagement and within truncated tender periods that minimise opportunities for bidders to undertake a proper risk analysis. We are also aware of projects being tendered where an unsustainable level of risk is being allocated to the contractor, such that even if only some of that risk materialised it would cause the contractor, and therefore the project, to fail – an approach which is neither smart nor sensible. Yet the reality remains that there are contractors bidding on such projects, often with few tags and with sharp pricing, leading some to worry that there is still a "race to the bottom" in some areas of the market.
It is not within the scope of this article to revisit the full spectrum of risk allocation issues we discussed last September. Suffice to say that, outside of COVID clauses, improvement in understanding and allocating risk has been iterative and limited. The reality is that there is opportunity and need for continued improvement on an industry-wide basis. Effecting that improvement remains a challenge for the Construction Sector Accord as it seeks to overcome adversarial behaviours.
3. NZS3910:2013
There have been ongoing discussions for some time now about a potential rewrite of NZS3910:2013 (and potentially the broader suite of NZS391X contracts), with varying degrees of traction. Most recently, we understand that Civil Contractors New Zealand has taken the lead on this and, together with the Accord, is aiming to start a review of NZS3910 in mid-2021.
The premise is the view that NZS3910 is far from perfect – as evidenced by the extent and frequency with which special conditions are used – and that the 2013 review of NZS3910 was limited in what it could achieve as it was only a technical review. This meant that whilst the review addressed some of the feedback from the market, it was unable to tackle other, more substantial, issues that were raised at the time.
By way of comparison, the Australian equivalent of NZS3910, AS4000-1997, has not changed for some 23 years. In September 2013, in response to calls for a standard form contract that more fairly and transparently allocated risk, Standards Australia commenced a review of AS4000. The revised contract was to take to the form of AS1100, the key features of which were to include:
an overall obligation of good faith on the parties;
an early warning procedure;
provision for disputes to be resolved by a dispute resolution board;
a requirement for critical path programming to be updated in real time;
a revised delay events regime;
a requirement to use a prescribed form of corresponding subcontractor; and
improved alignment with the Australian security of payment legislation.
On the face of it, these all seem to be sensible changes, but in April 2017 Standards Australia decided to abandon the review due to a lack of support from "the full spectrum of interests". As a result, AS4000 continues to be the predominant standard form construction contract in Australia, with it being left to the parties to fix any deficiencies in the general conditions and to address any other matters via special conditions.
In our opinion, there is a prospect that a full revision of NZS3910 would encounter similar obstacles. The reality is that special conditions have, and will always have, a place, whether driven by informal industry consensus (e.g., the now standard inclusion of a limit of liability clause) or the requirements of the principal or project. Re-writing NZS3910 will not change this; rather, different special conditions will emerge.
As an alternative, we suggest that a useful short-term initiative would be to engage with Standards New Zealand with a view to agreeing a revised licensing arrangement to allow for the general conditions to NZS3910 (and possibly the broader NZS-391X suite) to be amended in track changes. It is already possible to obtain such a licence for AS4000, as well as other industry standard contracts such as FIDIC. This should be able to be done relatively quickly, especially given the increase in licensing revenue it would generate (which may, in turn, be able to be used to fund a full review in due course). The ability to amend NZS3910 in this way would overcome the inherent complexity associated with describing changes to the general conditions via special conditions, and so significantly improve readability and accessibility. To our mind, this should be an immediate and priority focus going into 2021.
4. The Accord
At the start of this year, we published an article outlining the challenges for the Accord in light of the publication of the Transformation Plan. Our overarching comment was that "the enormity of the task facing the Leadership Group cannot be underestimated – its charge is to challenge the status quo in an industry that is known for being etched in its ways." As it came to pass, this task was made even more difficult by the onset of the COVID-19 pandemic and the far-reaching impact it has had on the construction sector.
In this context, it would be premature and unfair to draw any final conclusions as to the success or otherwise of the Accord and the Transformation Plan. Instead, we make the following three interim observations, whilst at the same time acknowledging the various initiatives with which the Accord has been involved and the key role that the Accord has played in contributing to industry stability and continuity amidst the COVID-19 pandemic.
The Accord's Beacon Project initiative has much to commend to it – the notion that we can learn valuable lessons by studying and understanding innovative, best-practice projects is something that should be pursued. It is slightly discouraging, however, that to date only one Beacon Project has been published by the Accord – the Watercare Enterprise Model. The Beacon Projects initiative is one of the core tenets of the Transformation Plan and, in a time where we cannot afford to repeat mistakes of the past or to miss opportunities to improve practices, it is one that needs to be driven harder if the Accord is to realise its true potential.
In July 2020, the Accord and the Infrastructure Commission published its Rapid Mobilisation Models. These Models are a key part of the Government's shovel-ready project initiative, and provide some essential, practical and easy-to-understand guidance on selecting appropriate contracting models to expedite the procurement and delivery of projects. It is a valuable addition to the existing public sector guidance on procurement. We would welcome the publication of market feedback on the Models to date, and specifically, the release of data on the extent to which both the Models have been followed. Similarly, it would be useful to understand the extent to which the Accord's model form of Contract Partnering Agreement​ has actually been adopted. Only by understanding the market response to these initiatives can we truly assess their utility.
There has always been a level of cautious optimism that the Accord will achieve its mandate of effecting real industry improvement. The Accord has sought to harness this optimism and seek to turn it into real support, including by partnering with key industry bodies such as the Infrastructure Commission, CCNZ and Infrastructure New Zealand on various initiatives. We suggest it would be of further benefit if other organisations and/or individuals were able to either join the Accord or at least publicly declare a commitment to its principles in a uniform way. We understand that the Accord Network membership model is now being developed, and so only hope that, with the passing of time since the Accord was launched in April 2019, that the opportunity to build consensus has not passed.
5. The Engineer
At the start of the year considerable scrutiny was already being applied to the role of the engineer to the contract, and in particular, the extent to which one individual can truly perform the dual role of both an independent decision-maker and a representative of the principal. This occurred as an adjunct to the debate around risk allocation and fair contracting practices, and the COVID-19 pandemic only sharpened the focus further. As the pandemic evolved and the Government implemented its four-tier regulatory response, engineers were called upon to determine substantial contractual entitlements in response to an unprecedented event and without a definitive and binding decision on how the provisions of NZS3910 respond.
Thankfully, pragmatism seems to be making gains as many parties have taken a sensible approach towards dealing with the pandemic under existing contracts, perhaps in recognition that if either party presses too hard for a particular outcome it could have adverse consequences for both. This seems to have reduced the pressure on the engineer to definitively determine an outcome one way or another. Yet the reality is that significant concerns surrounding the role of the engineer to the contract pre-2020 still subsist.
A proposal is currently being developed by Engineering New Zealand, the Accord and others to establish a panel of suitably qualified engineers to the contract so as to ensure expertise and independence in project decision making. We would hope that, as part of this proposal, consideration will also be given to:
the merits of splitting the dual role in a similar way to that provided for under, for example, NEC4;
the merits of having a direct contractual relationship between engineer and contractor (potentially as part of a tripartite arrangement with the principal);
the role of the engineer's representative, his or her ability to make decisions on behalf of the engineer that impact the contractor and, again, avenues of recourse for the contractor where it is dissatisfied with those decisions; and
the extent to which competency and selection criteria for engineers can, and should, be mandated so as to ensure minimum levels of performance.
Such issues need to be discussed with the full range of industry participants, so that all viewpoints are heard and true consensus can be built to underpin meaningful reform.
If you have any questions about the matters raised in this article please get in touch with the contacts listed or your usual Bell Gully advisor.