Simulated test auctions are being run from 27-28 January 2021 and will match the settings for the first New Zealand Emissions Trading Scheme (NZ ETS) auction on 17 March 2021.
The auctioning of NZUs is part of the practical implementation of the Climate Change Response (Emission Trading Reform) Amendment Act, which passed in June 2020. Auctions have been introduced to align the supply of emissions units in the NZ ETS with New Zealand's emission reduction target and five-yearly budgets, with the intent of reducing supply over time to meet budgeted levels.
NZX is jointly developing and operating the auction service with experienced emissions auction operator the European Energy Exchange (EEX), on behalf of the New Zealand Government. EEX also operates the common auction platform to auction emissions allowances for the European Union Emissions Trading Scheme (EU ETS).
Auction Guidelines
In December 2020, the Ministry for the Environment released the New Zealand Emissions Trading Scheme auctions: Guidelines for participants which describes how auctions operate for the NZ ETS. The Auction Guidelines are an important read for those intending to participate in the NZ ETS auctions, as well as understanding the intricacies of the Climate Change (Auctions, Limits, and Price Controls for Units) Regulations 2020 (the ETS Auction Regulations).
Auction settings
Although the fixed price option of NZ$35 in lieu of a NZU can be used to meet surrender obligations up to 31 May 2021 for the 2020 compliance year, auctioning and wider trading of units will be the primary means for participants to purchase units to meet their surrender obligations after that date.
It is expected there will be four auctions offering a combined total of 19 million NZUs in 2021, with each taking place in the last month of the calendar quarter. The number of NZUs expected to be auctioned is to be spread evenly, with price and associated auction settings as follows:
Auction Date​

Volume of NZUs available

NZU floor price (NZ$)

CCR trigger price (NZ$)

Volume of cost containment reserve

17 March 2021

4.75 million

$20

$50

7.0 million NZUs across 2021*

23 June 2021

4.75 million

$20

$50

1 September 2021

4.75 million

$20

$50

1 December 2021

4.75 million

$20

$50
* If the cost containment reserve is triggered then the volume of the cost containment reserve for future auctions in 2021 will be reduced by the volume of cost containment reserve NZUs successfully auctioned in the earlier 2021 auctions.
If NZUs from a quarterly auction remain unsold at that auction, that volume of NZUs will roll over into the next quarterly auction, provided it is in the same calendar year. Quarterly auctions are expected in subsequent calendar years, with the price floor currently regulated to increase each year through to NZ$21.65 by 2025 and the cost containment reserve trigger price similarly regulated to increase each year through to NZ$54.01.
There is currently no provision in the Climate Change Response Act 2003, the ETS Auction Regulations or the Auction Guidelines for a technical reserve price to be set for each particular option. Despite an earlier Cabinet decision1 not to set a technical reserve price (which differs from the floor price) to prevent NZUs being sold at a price significantly below the prevailing secondary market price, the Minister for Climate Change was reported2 in late-December 2020 as saying that Cabinet has agreed to introduce an amendment bill that will implement a technical reserve price for auctions.
A technical reserve price is an undisclosed minimum price for each auction, based on prices in the secondary market. It is expected that a technical reserve price would ensure the primary auction does not significantly influence prices in the secondary market and would protect against the risk of a windfall gain for successful auction bidders (if auction prices are substantially below the secondary market price).
Who can paticipate in the auctions?
There will likely be a wide range of people bidding in the auctions, provided they have satisfied the registration obligations. Auctions are not only open to those who are NZ ETS participants with compliance obligations under the scheme. Any person who has a holding account in the New Zealand Emissions Trading Register (NZ ETR) and has met the registration obligations for auctioning can choose to participate in an auction.
For those who are not already registered for the NZ ETS auctions (including those who are yet to open a holding account in the NZ ETR), it is important to understand the rules and continuing obligations of opening and holding an account in the NZ ETR as well as those for registering and participating in the NZ ETS auctions. These include rules around:
the types of entities / persons who can be an account holder and the persons who can operate such accounts,
the steps that must be followed to register for the auctions, and
the terms and conditions one must agree to and the collateral that must be provided for bids (being 25% of the maximum value of each bid a bidder places at an auction).
All these matters must be satisfied at least five working days before submitting a bid at an auction.
A sealed bid, single-round, uniformly priced auction format
Given the auction platform will have a sealed bid, single-round, uniformly priced format occurring within the bid window of 9am - 12pm on the date of the relevant auction, auction participants have a narrow window within each quarter to secure NZUs for compliance or trading purposes.
Bidders may not yet be used to a sealed bid, single-round, uniformly priced format. This format means that:
registered bidders submit a bid at their preferred price (with a minimum bid volume of 500 units and mutilples of 100 units for the total lot size of that bid, with a price above the price floor – price can be a multiple of $0.05),
registered bidders must have satisfied all of the registration, collateral and terms and conditions agreement obligations,
conforming bids are then ranked in order from highest to lowest price, with the principle that the clearing price is set to be the lowest successful bid price for the volume of units available (this includes a volume of the cost containment reserve units if the clearing price meets or exceeds the cost containment reserve trigger price),
as it is a uniform price format, all bidders then pay the clearing price irrespective of what the price was for their original bid,
payment will be required before delivery.
The following diagram demonstrates how the auction clearing price is determined when all units are sold in an auction.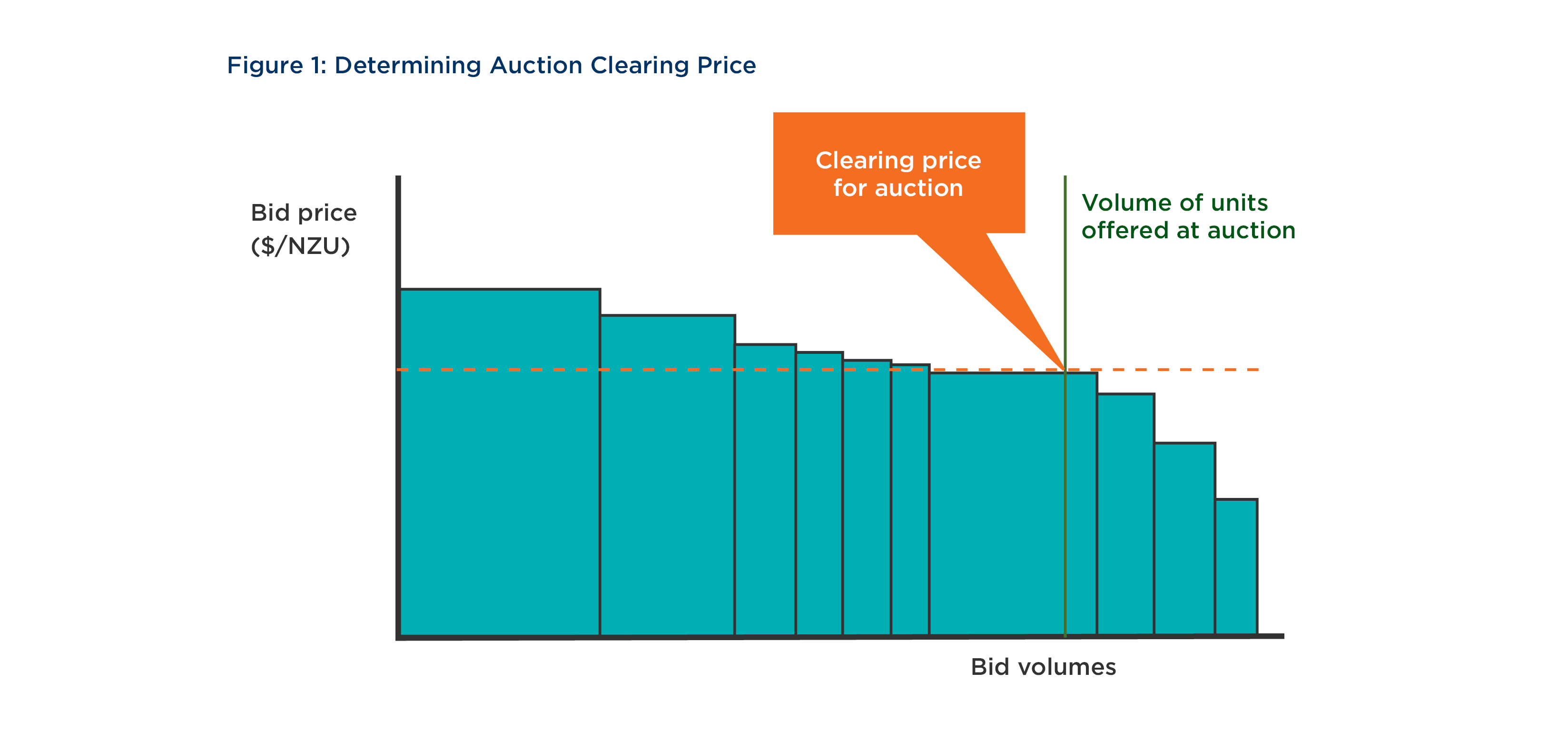 There are additional interim steps associated with occasions on which the cost containment reserve is released, and then the volume of units for bids at the clearing price exceeds the volume of units available.
Simulated test auctions being held through 27 and 28 January, register for them here by 20 January 2021. A NZ ETR holding account and NZ ETS auction registration obligations do not need to have been satisfied to participate in the simulated tests.
If you have any questions on the matters raised in this article please get in touch with the contacts lists or your usual Bell Gully advisor.
---
DisclaimerThis publication is necessarily brief and general in nature. You should seek professional advice before taking any action in relation to the matters dealt with in this publication.